I've got something MIND-BLOWING for you!
Recently I've bought a mask for damaged hair from Nanoil and I decided that I'll write a review about it – just for you. I know that you like review posts mostly because it's a good habit to keep up-to-date with the latest beauty products that have been launched onto the cosmetic market.
New Arrival: Nanoil hair masks collection
I found these amazing Nanoil hair masks a couple of weeks ago, while shopping in one of my favorite online stores. Out of curiosity I clicked on an image showing these beautifully-looking black-and-gold packaging (the price was also tempting). What did I find out?
There are 5 Nanoil hair masks:
Nanoil Keratin Hair Mask for damaged hair
Nanoil Argan Hair Mask that has a universal formula
Nanoil Algae Hair Mask for dehydrated hair
Nanoil Liquid Silk Hair Mask for the frizz-control effect
Nanoil Charcoal & White Clay Hair Mask to detoxify hair and scalp
I decided to get it, use it and see where it would get me. I didn't expect that Nanoil hair masks would appeal to my taste so well.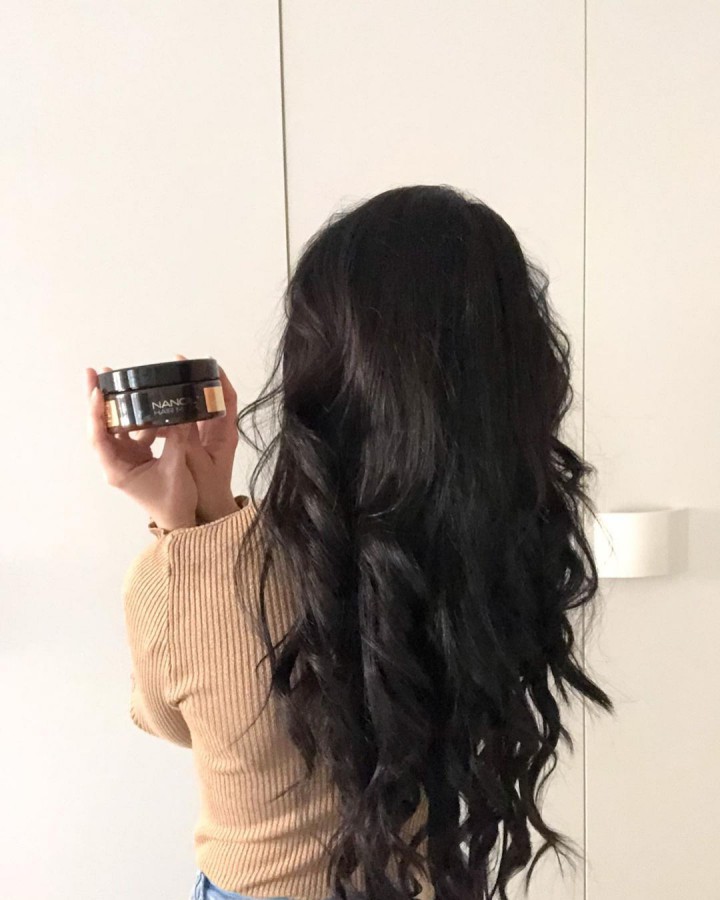 Why did I choose a keratin hair mask?
Since my hair has seemed to have a hard time recently – the ends split and I could notice brittleness and breakage – I thought that a Nanoil keratin hair mask would be the excellent choice. It contains a substantial portion of this precious protein, and therefore it works like a rescue kit for the hair that seems to be hopeless. Okay, I'm just kidding. There is always hope. Simply put, Nanoil Keratin Hair Mask is the best mask for damaged and brittle hair. It deals with split ends and frizz caused by high humidity. This product also strengthens fine, rough and dull hair, leaving it clearly better-looking. Hands down, this is exactly what I was looking for!
Nanoil Keratin Hair Mask – first impression
I ordered the mask two weeks ago, or so, on the official Nanoil store (here is the link in case you need it: www.nanoil.us. The package was delivered within 3 days, and the product was really well-secured inside. And when I opened the box I saw it there – the keratin hair mask by Nanoil.
The very first thing that caught my attention was the packaging and labeling, both looking professional and solid. This isn't only a designer's jar but also a protection for the mask because – let's be honest – how many times has a product slipped off your hands under the shower? Luckily, you won't break the Nanoil jar.
And inside the jar there is a beautifully-smelling hair mask whose texture resembles something like… pudding? It's lightweight and easy to scoop up and apply to hair. What's the effect?

Formula and benefits of Nanoil hair mask
As the name indicates, Nanoil Keratin Hair Mask is a keratin hair mask. Formulated with hydrolyzed keratin, this product works better because these protein molecules penetrate faster and deeper than they do it when in regular form. Additionally, this mask is enriched with panthenol, which is B5 pro-vitamin that has a moisturizing effect. The formula is simple and includes only the ingredients that improve and condition hair.
Thanks to a formula saturated with only the good substances, which is lightweight so that it doesn't weigh hair down, Nanoil keratin mask:
strengthens hair along its entire length.
repairs and reverses damage in hair.
smooths hair out and combats frizz.
increases resilience and boosts hair shine.
prevents excessive hair loss.
prevents split ends.
eases combing and styling.
Am I satisfied with the results?
Obviously, this is not a list of things that Nanoil Keratin Hair Mask should do with my hair but what it actually has done. Before buying this keratin mask, my hair was brittle, dull and dry… it didn't look good at all. Now? Finally I have strong, healthy and lovely hair, and this makeover wouldn't be possible if it wasn't for the Nanoil hair mask. And let me remind you that I bought it 2 weeks ago. It's mind-blowing how quick and efficacious this product is.
I'm totally in love with Nanoil Keratin Hair Mask. <3