Hello everyone!
Recently the Nanobrow brand has released new eyebrow pens that are supposed to mimic brow tattooing – microblading, to be more precise – and I want to tell you more about them. I used to think that filling brows using a pen is complicated and time-consuming. Now I recommend it to brow makeup beginners! Why? Keep reading to find out 🙂
Eyebrow pen from Nanobrow – effect on my eyebrows
I had a chance to try the Nanobrow Microblading Pen. As the manufacturer promises:
Nanobrow Microblading Pen is a unique and innovative cosmetic that lets you create microblading-like makeup without tattooing! Everyone seeking a precision tool for brow thickening will love this product.
What do I make of the product?
The eyebrow pen Nanobrow was a nice surprise! I can use it to:
draw hairs imitating real eyebrows
fill all sparse areas and give volume to very thin brows
create very natural makeup which looks like microbladed brows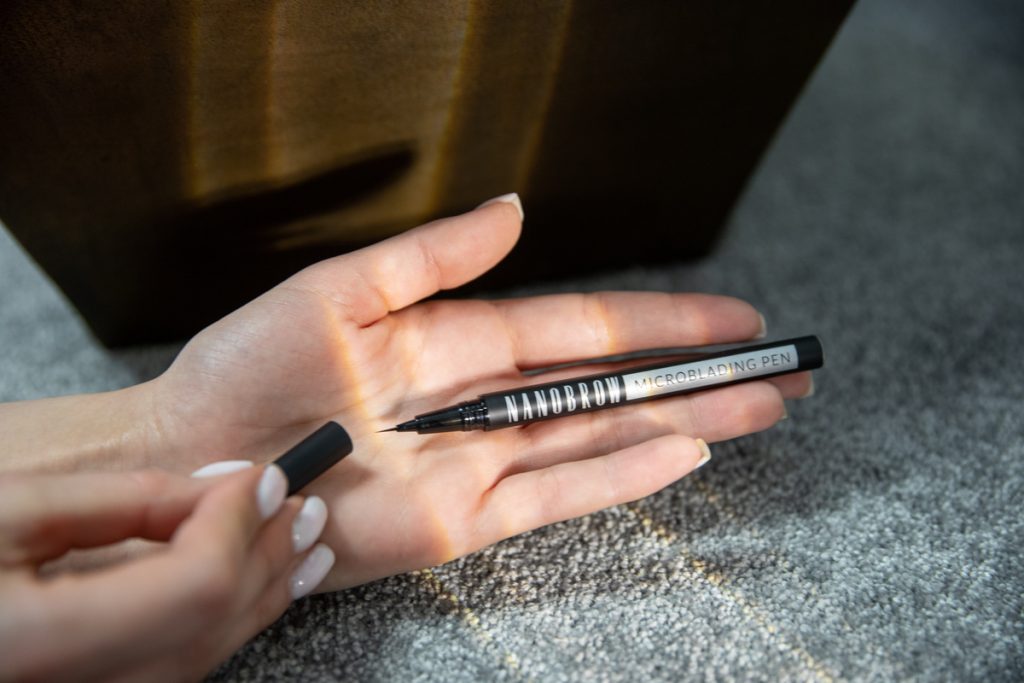 Convenient alternative to brow tattooing
Another great thing: it's waterproof! Nanobrow eyebrow pen is smudge-proof and doesn't come off when you accidentally touch the brow. I'm pleasantly surprised by long-lasting results, intense pigments and natural shades. Choosing the right one is easy as there are four hues, both warm and cool tones. It's cost-effective and affordable. Inspired by the brow microblading technique, it has a nib that resembles a thin needle, which is why it manages to create super precise hair-like strokes. Nobody will tell whether it's your own brows or not 🙂 You just need to get the hang of using a brow pen and then brow makeup will take you a few minutes tops. Even if something goes wrong, you can wipe it off using makeup remover. Nanobrow Microblading Pen is the secret to the up-to-date, trendy, long-lasting makeup without the need for permanent makeup and tattooing! One product is enough to make brows look as if done by an esthetician.
Brow makeup with a pen – tips
Before you use your brow pen for the first time, try it on the hand palm, creating a few strokes.
When filling in your brows, hold the pen diagonally to draw the thinnest hairs.
Start from the lower line, using quick strokes.
Follow the direction of hair growth and draw the lines.
You can easily remove the pen using micellar water or makeup removing oil.
Eyebrow pen for microblading effects – who can go for it?
I would never go for microbladed brows, but I love the effect this pen creates. I recommend it especially to those who have sparse brows like mine. Brow pomades and pencils always look unnatural on my thin brows, and I wanted a different thing. Thanks to the eyebrow pen, I can thicken, volumize and fill in my brows creating subtle makeup. Eyebrow pens work great for people who want to keep brows filled in for many hours – also on the beach or at the gym.
I bought it at nanobrow.us but I guess you can try looking for drugstores selling this eyebrow pen – Douglas or Boots are worth checking.
What do you think of such brow products? Do you like makeup done with a brow pen? As usual I look forward to your comments 🙂